ABOUT: SUSAN MCELHINNEY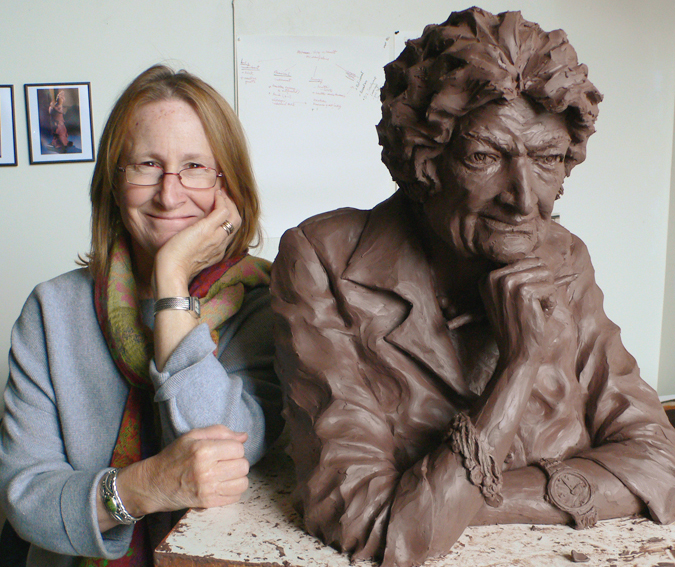 An alumna of the Maryland Institute, College of Art and the Corcoran School of Art, I first fell in love with sculpture at age 18. That pursuit was sidetracked as my career as a photojournalist prevailed. However, after decades of observing people and the world through a camera I realized that I never ceased being a sculptor. The constant, of defining forms in space with light, was always there.

I presently have three genres in sculpture: portraiture, political commentary, and figurative work. They provide me with variety, depth and a merging of my varied interests. Clay and castings in bronze are my usual medium.

My portraiture work is primarily done on a commission basis, ranging from heads of children to full figures of adults. I enjoy the process of the sittings, which allow me to interpret in clay the marvelous subtleties of individuals. The intimacy of the sittings give depth not met through the use of photos.

My political commentary work is the expression of my sentiments regarding heroes like President Obama, Cong. John Lewis and the young activist, Malala to ordinary persons living heroic and tragic lives to my current scathing satiric pieces of Donald Trump. I am a political junkie—because I live within the beltway, or in spite of it?

My figurative work is part of everything I do because in form is the expression of the body, the soul and the hurt. Very personal, I sometimes allow my pieces to broach the magical, embodying my observations and concerns for the world around me, from the loss of privacy to individualism and identity.

Much of my work is on a commission basis and in private collections. I have regular open house events at my studio and visitors are welcome, anytime, by appointment.